Gomashio Is A Health And Tasty Condiment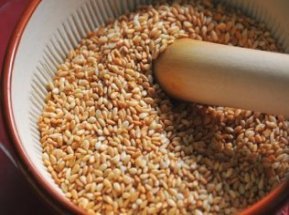 Gomashio is a simple yet wonderful Japanese condiment. Warning, it is quite addictive and satisfying, use it as a topping for any recipe or in place of salt on cooked vegetables or in salads or soups. My children raid the Gomashio container and it becomes empty very quickly.
A good tip when you make Gomashio is to rinse the sesame seeds in a sieve first, otherwise the little seeds pop everywhere once you heap them up in the cast iron skillet.
Ingredients
1 cup raw sesame seeds
1-2 tsp sea salt
1 tsp kelp powder (optional)
Method
Rinse the seeds first in a sieve under the tap – this will prevent them popping like crazy like miniature popcorn once hot.
In a dry frying pan (use a thick bottomed cast iron skillet for the best results), heat the sesame seeds and salt on medium high heat for 3-5 minutes, stirring constantly until seeds start to pop and brown.
Once about 50% of the little seeds have become tan or a pale brown. Make sure you remove the sesame seeds from the pan at this point, or they will continue to cook in the hot pan. Set aside to cool.
I then tip them at once into my Japanese ceramic bowl which has grooves in it (see picture) and start to grind. The smell is something else, as the oil starts to mix with the salt. Try it, you will see why it is so addictive!
Alternatively, place the seeds in a blender, food processor, or coffee grinder and grind for 3 seconds. You don't want the seeds to become powdered, just lightly ground up. Be careful.
Store in a sealable container.
Gomashio is said to assist in blood pressure regulation, and is a prized addition to the Japanese Macrobiotic diet.