Who Says Pancakes Can't Be Healthy?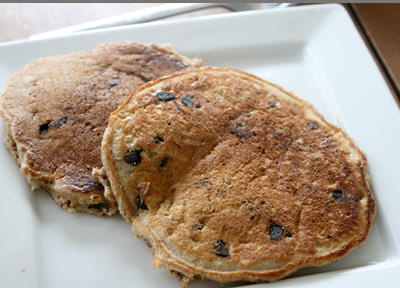 There is this misconception among many of my psoriasis patients that pancakes make you fat and are for people who couldn't care much about their waistline. Well, this is simply not true, and this recipe is an excellent example to put the record straight. This is a delicious and very healthy pancake recipe for those who are allergic to many things; they taste nice and make good cold snack foods as well.
Ingredients
1 cup of brown rice flour
½ cup of tapioca flour
¼ cup of potato starch
1½ teaspoons of baking soda
2 teaspoons of baking powder
2-3 tablespoons light olive oil (Sunflower oil is nice too)
1/4 cup goat milk protein powder, depending on how much protein you want. (Rice protein powder would work as well)
Stevia or Xylitol natural sugars to taste (optional)
1+ cup water–to taste, depending on thickness desired
Additions can be sweet (berries) or savory (like zucchini).
Mix together well and drop into pan and brown on both sides. The toppings are endless, and this pancake can be eaten any time of day. It tastes nice when it is cold as well, and would be a useful addition to a picnic or a BBQ.