Be Selective About What Moisturizer You Use On Your Skin
OK, so you are starting to look after your health a little better in general. You are eating a higher quality diet, exercising regularly and taking time out to relax more. You maybe reducing the amount of toxins that are coming into your body because you have either cut down or entirely cut out taking those pharmaceutical drugs, alcohol, coffee and tea, soda drinks, and perhaps other foods, drinks or products containing chemicals that may interfere with your liver's detoxification capabilities or your immune pathways. But what about your skin, what are you putting on it? What are you regularly moisturizing your skin with? Some chemical concoction or a more natural based product?
I have a few hints and tips for you when it comes to buying oils or other products that you may want to apply to your skin. Ensure the oils are cold pressed and preferably supplied in amber-colored glass. Oils that are not cold pressed and supplied in clear plastic containers are not really suitable, these are usually cheap and extracted at very high temperatures that destroy the very nutrients you need to heal and soothe your skin. The clear plastic or glass allows light to penetrate the oil that accelerates oxidation (aging) and renders the oil useless in no time.
I've seen more than one psoriasis patient who has told me that she uses a vegetable oil "bought from the supermarket". You will need to be very careful indeed if you buy and apply these kinds of oils, as some may even contain pesticides, herbicides and other unwanted chemicals. Some may even come from GM (genetically modified) or similar unnatural sources. Check product labels very carefully, just because a label states that the product is "100 percent" it may mean that one or two of the minor ingredients are actually 100%. It is especially important to ensure that the natural product actually is natural and free from chemicals if you are prone to skin irritations or allergies.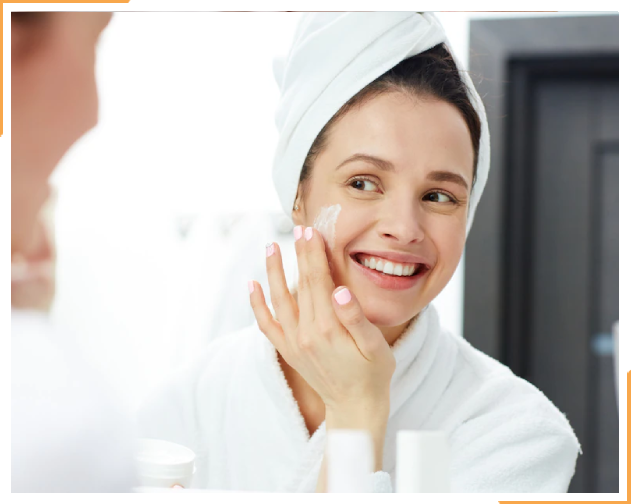 Please avoid those commercial mineral oils, as most are derived from petrochemicals (crude oil, yes – it's actually true). Mineral oils destroy vitamins D, and vitamins D and A are the only vitamins (fat soluble) that are easily absorbed into the deepest layers of your skin. "Baby oil" is mineral based and should be avoided by those with psoriasis. You may also want to avoid oils that are perfumed, unless you are certain the scent comes from an added essential oil like pure lavender.
Only Use Natural Oils and Creams And Skin Preparations
Many psoriasis patients have asked me over the years what the best skin treatments are, after having used pharmaceutical skin preparations for years and being dissatisfied with the results. Why on earth would you want to use skin care products on your body that are often derived from petrochemicals? I always recommend natural treatments as these products come from nature, are packed full of beneficial fat-soluble vitamins and essential fatty acids and are chemical-free. I often question why somebody would want to put an artificially derived man-mad chemical concoction kind of cream, oil or ointment on his or her skin and expect "healing" to take place.
Seed oils like linseed, safflower, jojoba, apricot kernel, etc., nut oils like almond, walnut, avocado, etc., and animal oils like emu oil, and fish oil, etc., as well as herb based aqueous creams satisfy my criteria for natural skin surface treatments for psoriasis. Only natural oils and creams contain vitamins A, D, E and F (essential fatty acids). Oils are particularly rich in vitamin E, especially wheat germ oil, and help to activate the micro circulation just under the skin's surface.
When Moisturizing, Use Natural Oils
I always recommend that psoriasis patients apply a natural moisturizer regularly, especially after bathing or showering. Try to choose a natural product rather than a mineral based lotion. There are many choices out there but one of the best is Jojoba oil. This would have to be one of the best moisturizers I know, and the feedback I've received when I have recommended it has been fantastic. Essential oils of tea tree and lavender are great to use, and a few drops can be added to the jojoba or borage oil which then acts as a carrier oil.
Apply this moisturizer often during the day. Please ensure that your moisturizer is top quality and fragrance-free, don't skimp and buy cheap, you will invariably be disappointed. Avoid those pricey fruity smelling lotions, or ones that offer "cures" or make ridiculous statements. Always remember to lotion up after you shower or bath to help keep that moisture locked in, and I believe that jojoba oil is the best choice here. Just leave your skin a little moist and rub the jojoba oil into the affected areas like elbows, scalp, torso, etc., including any areas affected.
It is also important to switch to all-natural products which come into contact with your skin, and this includes everything you use from hand soap to make-up which should be fragrant free and all natural. Look for products that are hypoallergenic and are free and clear of irritants. Change your laundry detergent to a free and clear type brand.
Moisturize After Your Bath Or Shower
For some psoriasis patients I know, taking a shower can help aid in alleviating their symptoms of psoriasis and can give their body much of the moisture it needs. However, it is very important to capture and lock in that moisture by applying skin creams and lotions soon after that shower or bath. Once you get into this habit, you will find that your skin will feel much more comfortable.
When drying off with your soft towel, avoid quick rubbing motions that you may be used to as they may damage affected areas of skin. Take your time and relax, gently pat yourself dry thereby removing the excess water from your body. Remember, you don't have to be completely dry to moisturize, that little bit of water needs to be there in order to keep the skin hydrated. Straight after towelling off, apply your lotion so the access water doesn't evaporate.
It may help to add some oils into the bath like an olive oil, almond, wheat germ or sunflower oil, or vegetable oil. All these oils will help soothe the skin and fight of inflammation. Adding in some bath salts or Epsom salts will help relieve some of the symptoms as well, and help keep those dry, patchy spots at bay. Try sea salt, it may be of assistance as well in the bath – all trial and error. Some patients swear by baking soda (sodium bicarbonate), others have told me that they like to soak a bag of rolled oats in the bath before they get in, because it alleviates the itch. I do hope that you have found some of these psoriasis bathing hints and tips successful. To summarize: Keep baths and showers short and infrequent and use lukewarm and not hot water. Moisturize soon after bathing and try a few different oils to see what is successful with your skin, and what is not. What will work for one may not be suitable for the other.