Chickpea With Millet And Vegetables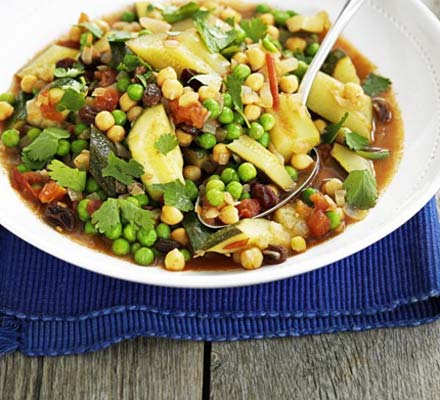 Chickpea with millet and vegetables makes a great lunch or dinner. This meal is high in protein and is suitable for vegans and vegetarians as well. I always recommend patients with psoriasis to eat plenty of protein, and many don't like to eat too much meat, and garbanzo beans (chickpeas) are an excellent source of protein.
Ingredients
1 cup millet, rinsed and drained (optional)
2 cups water
½ cup Vegetable Broth
1 small onion, diced
½ cup corn kernels
½ cup peas
½ cup diced carrots
½ cup cooked chick peas
1 red onion sliced thinly
½ tspn. Sea-salt
Method
You can add the millet or leave it out, the picture above has the dish prepared with no added millet and some zucchini. Iy you want to add the millet, rinse and drain the millet. Then dry sauté it in a saucepan over medium heat, stirring constantly for about 4 minutes or until the millet starts to pop. Toasting the millet will give it a nutty, full bodied flavour.Add the water, broth, and salt to the millet and bring to the boil. Lower the heat and simmer for 10 minutes, covered.Add the corn, peas, onion, carrots and chickpeas. Cover and simmer for another 10 minutes. Remove from heat; add the onion, cover and let sit for 1 – 2 minutes before serving.Tastes great, and is a hearty meal in its own right.