Tofu And Spinach Pies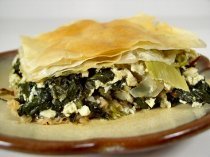 These little spinach pies are one of my favorite recipes. They are a great lunchbox filler and so healthy to. Try them, the kids like them as well. Spinach is quite possible along with kale in the top two or three of healthy leafy greens. Try and eat some spinach a few times a week, because fresh spinach contains a lot of folic acid, one of the key vitamins when it comes to the health of your skin.
Ingredients
2 cups tender fresh spinach leaves
1 Tablespoon olive oil
1 medium sized onion, finely chopped
2 cloves finely chopped garlic
½ tsp. fennel seeds
½ cup medium firm tofu diced
salt and pepper to taste
Fillo pastry
Method
Place the spinach in a pan with just the water clinging to its leaves after washing. Steam over medium heat until wilted; about 7 minutes.
Warm the oil in a pan over moderate heat, add the onion, cover and cook for 5 minutes. Add the fennel seeds and finely chopped garlic and cook for 1 – 2 minutes longer.
Add the onion mixture and the tofu to the spinach. Season with salt and pepper if you desire, and mix thoroughly; allow to cool.
Preheat your oven to 200 degrees C.
Cut a sheet of fillo pastry lengthwise into two strips. Spoon filling onto the tops edge of one strip and make a triangle. Brush with small amount of olive oil. Place on baking sheet and repeat using all the filling to make triangles.
Bake until golden crisp: about 10 minutes.
Serve immediately or keep in a warm oven before serving. Very tasty.