Cooked Breakfast Is My Favorite Weekend Breakfast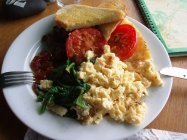 This is one of my favorite breakfasts, especially on the weekends and will keep the tank topped up for many hours. You should not feel hungry for several hours after this hearty meal. Especially good meal if you have a lot on and anticipate you may not be able to eat until 1.00pm.
You can have this breakfast every second day, have the Detox Cereal, Muesli or a Protein Smoothie on the other mornings. Be sure to include the spinach, you can use you own garden fresh spinach or silverbeet (Swiss chard). Spinach is best used as fresh as possible – pick and eat. That way you loose very little folic acid, a vitamin which you can't get enough of today it seems. Folate is almost certainly the most deficient vitamin world-wide. Y
Ingredients
1-2 eggs – free range are best
Some fresh spinach or silverbeet (Swiss chard), (or 1 portion frozen spinach)
½ large tomato or a medium cut in half
Small amount of smoked salmon
A few button mushrooms
Method
Cook the eggs as you wish – scrambled, poached or lightly cooked are best. Hard boiled are harder for the small intestine liver to digest than scrambled eggs.
If frozen, steam the spinach to defrost, it defrosts and cooks in mere minutes.
Fry the half tomato in olive oil, you can add a few pieces of red onion or zucchini too.
The salmon and mushrooms (cooked) are optional but a very tasty addition.
Enjoy on a piece of gluten free bread or have with a wrap like Mountain bread.
Enjoy with a herbal tea or a cup of green tea.