My Own Personal Muesli Recipe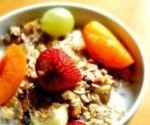 The advantage of coming to our website is that you will find my own personal favourite recipes, and this would have to be one of them!
Of course you can buy the "boxed" cereals, but making your own gives you total control over the ingredients. You can avoid the peanuts, which are a cheaper "nut" and are not the best as an addition to muesli. This recipe is a fantastic food, plenty of energy and quite tasty. Make up a small amount to start and feel free to modify to suit. When you like the recipe you have, make a large quantity and freeze what you don't use within two weeks. You could even use this recipe as a base for making your own granola bars.
It keeps very well frozen. Have this muesli with a rice, nut or soy milk, additionally, have with a low fat cow's milk if you tolerate it. You can have some fresh berries or stewed fruit on top. Try to source high quality ingredients, and organic if possible.
Ingredients
1 ½ cups rolled oats (not quick oats)
¼ cup rye flakes
¼ cup barley flakes
¼ cup wheat flakes
¼ cup raisins (organic)
¼ cup flax seeds
¼ cup sesame seeds
¼ cup sunflower seeds
¼ cup sliced almonds
Optional Additions:
¼ cup wheat germ
¼ cup pumpkin seeds
¼ cup chopped pecans
¼ cup chopped hazelnuts
¼ cup cashew pieces
¼ cup shredded coconut
¼ cup dried pineapple
¼ cup dried apricot (sundried, not sulphured)
or whatever dried fruits and nuts you like or have on hand. I like crystalline ginger added.
Method
Mix all dry ingredients selected with a large spoon; store in a sealed container in your breakfast cupboard. You may also put some into the freezer using Ziploc bags, will keep for many months this way. Serve with rice, soy or a nut milk, if you are not "dairy intolerant" you can have with a little green top (low fat) milk.
How To Make a Nut Milk
Soak almonds, (or rice, hazelnut or sunflower kernels) overnight or for about 12 hours. The simplest way is to change the water, blend the soaked seeds in an electric blender and press them through a strainer. You may either drink the liquid immediately or refrigerate. You may cook the residue of the rice and add the residue of the seeds to any breakfast mix (possibly remove almond skins before blending).Try using a Vita-Mix 5200, it is simply the best way to make a nut milk.