Chickpea And Millet Patties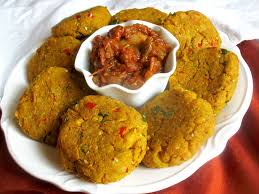 Do you like millet? Some say that it is birdseed. You need to try this recipe, a very tasty dish and a great lunchbox filler. I like to munch on these when I travel, they are a great snack on the road or with a picnic too. This recipe is wheat and gluten free. Makes 5- 6 patties. Double the amounts by all means. Tasty and chock full of protein and are nice served cold as well, no birdseed here
Ingredients
1 onion
1 can of chickpeas , or even better 1 cup of freshly cooked chickpeas
1 teaspoon ground cumin
1 teaspoon ground coriander
¼ teaspoon chilli powder (or chilli to taste, or omit)
½ teaspoon sea salt
Ground pepper to taste
½ cup of ground millet
1 egg
olive oil
Method
Place all ingredients in a food processor and process into a coarse paste. If you don't have a food processor, cut the onion as finely as you can, mash the chick peas and mix everything together as best you can.
Shape the patties and gently coat outside with extra ground millet.
Place in the fridge for ½ hour to firm up. Place patties in pan with a little olive oil and cook until golden brown.
Serve with yoghurt and diced cucumber dressing.