Maranui Fritters On Puy Lentils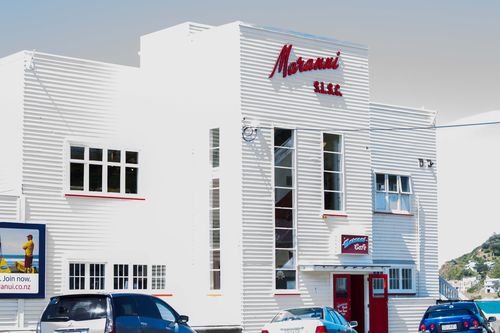 Have you ever tried Puy lentils? You can buy these at good health food shops, and they taste very nice. Now here's an awesome recipe. It will take time to make but it is a truely fantastic dish and it comes from the Maranui Surf and Lifesaving Cafe in Lyall Bay in Wellington. The Maranui is a quintessential New Zealand beach café, located in a surf lifesaving club with a splendid view of Lyall Bay. Even in winter, the waves are teeming with surfers in wetsuits and which remind you of Bondi Beach in Sydney, Australia. I'm certain that you will enjoy this dish as much as I have, and it is very healthy too. Maranui Cafe is one of the more popular cafés in Wellington, it's known for it's well priced yet decent meals, the friendly staff, the crazy hustle and bustle atmosphere and the retro décor. I've eaten here several times and am amazed at just how "different" the food is here from just about any other cafe I've eaten.
The Maranui Fritters partner up great with the Puy Lentils, or you can mix and match with other dishes to suit. Don't be fooled, it may look like a strange combination of ingredients but the end result is really worth it, you won't have tasted anything quite like this. Impress your friends.
Maranui Fritters
Ingredients
250 g frozen peas
2 red onions
2/3 bunch fresh dill
2 cloves garlic
2 eggs
½ cup milk
100 g plain flour
½ t baking powder
250 g feta cheese crumbled
Handful of chopped spinach
Method
Boil the peas in salted water for two minutes, then drain and refresh under cold water before draining again. Puree half in food processor until smooth.
Finely slice red onions, garlic and fresh dill – stalks and all. Fry in olive oil slowly until onions are soft. Season generously with salt and pepper.
Whisk the milk, eggs, flours, baking powder and pureed peas in a bowl, then fold in remaining peas, together with the onion mixture, spinach and feta. Check seasoning!
Heat the olive oil in a frying pan over a medium high heat. Add a tablespoon of mixture to the pan in batches pressing down to flatten slightly and fry for 2- 3 minutes until golden brown on both sides.
Spicy Puy Lentils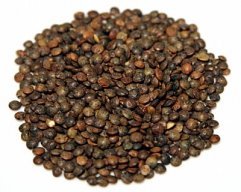 A small township in France called Le Puy is famous for a particular strain of green lentils, for its lace-making, and for its green liqueur Verveine, a unique liqueur flavored with verbena.
The lentils, grown on the thin soils of the area, are very small and almost black in color. Their unique quality and flavor is derived from their high protein and relatively low carbohydrate content. They are widely used in soups and also to accompany goose, duck and sausage dishes. Le Puy Green lentil is recognized throughout the European Union (and even has a Protected Designation of Origin).
Ingredients
2 tablespoons extra-virgin olive oil
1 large red onion (finely sliced)
2 cloves garlic (crushed)
1 teaspoon cumin powder
1 teaspoon tumeric powder
1 teaspoon paprika powder (smoked is really nice)
1 cup Puy lentils (Health-food shop)
1 large Bay leaf
1 teaspoon salt
Cracked pepper to taste
Rice vinegar
Juice and zest of 2 lemons
Method
Heat the oil in a pot and gently cook onions until clear (about 6 minutes). Rinse the Puy lentils three times in cold water. Put in a pot full of cold water on the stove, bring to boil with a Bay leaf, then turn down and simmer until tender. Drain, rinse in cold water. Do NOT over-cook. The lentils should remain firm.
Add garlic and spices to the cookd onions and allow to sizzle for a minute. Remove from heat. Allow to cool slightly, and then add the lentils, salt, pepper and rice vinegar.
When cool, add plenty of olive oil, lemon juice and the zest. Check seasoning. Serve with rocket, tomato relish, half a roasted tomato and topped with coarsely chopped parsley and roasted almonds. Serves four to six.