Aloe Vera For Psoriasis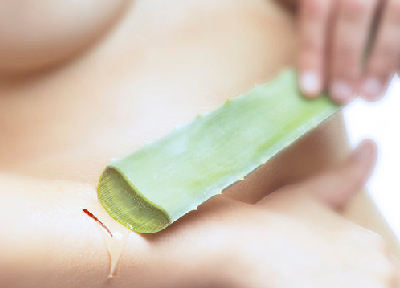 Consider Aloe Vera For Psoriasis
Aloe vera for psoriasis makes sense, aloe vera is a succulent plant that grows in many countries, and has been grown and used by many cultures for thousands of years. Modern research supports it use in many ailments, including different kinds of burns, wounds, many different kinds of digestive problems and just about every kind of skin ailment known to man, including psoriasis.
Aloe's soothing and cooling properties make it an ideal addition to any psoriasis treatment program, and I highly recommend it as part of the Psoriasis Program. It is perfect to use on a daily basis to settle irritated skin and to help prevent flare-ups, and unlike steroidal creams that are harmful to use internally and externally (long-term especially), aloe vera causes no side effects.
When applied topically, aloe vera provides a very soothing as well as cooling action and reduces itching, irritation, burning and redness of the skin. It moisturizes and strengthens the skin and aids in healing the skin. Here is some useful information for using aloe vera for those with psoriasis, you will get the maximum benefit from following the following tips:
Buy several plants, grow them outside in full sun, but be sure to cover them in winter if you live in an area prone to frost. I learned the hard way and lost most of my aloe one cold winter, I now place a hessian sack on the plants on nights when I'm certain a frost is imminent. Grow in large pots and move to a sheltered frost-free position is another option.
You will always get the very best results by using the fresh aloe leaf gel, as opposed to any processed leaf extracts, like gels, creams or lotions.
Aloe is especially good for dry, itching, red, cracked and irritated skin. Apply the gel straight from the leaf once or twice per day.
Apply the fresh aloe gel to any skin that has been exposed to the sun, especially good for sunburned skin.
Dry skin is particularly benefitted from aloe gel, apply it on thick and leave on affected area as long as possible. You will be amazed how well this natural skin healer works, better than any of those expensive chemical concoction creams, lotions or potions you will even get from a skin "specialist".
If you can't grow the plant or obtain it, be sure to look out for a high-concentration aloe vera in your skin formula. Amazing as it may seem, but there are several clinical studies that have shown that aloe vera is considerably more effective than topical steroids, when the aloe product contains a concentration of 70 percent or more.
Anti-Aging Effects Of Aloe Vera
Aloe is so mild, it can even be used on a baby's skin, but has also shown to have many anti-aging benefits for those with much older skin. Not only are wrinkles reduced and scarring healed more quickly, aloe contains many different natural compounds that aid in healing and regenerating just about any affliction of the skin. Aloe vera gel or juice with an organic rating (like the aloe you grow at home) are often used in expensive anti-aging cosmetic products like those fancy anti-wrinkle creams, skin conditioners, make-up, lipsticks and facial masks. Aloe vera products for natural skin care are heavily promoted, but should be promoted much more widely for every kind of skin condition, including acne, dermatitis, and psoriasis.
Organic aloe gel and juice are used in cosmetic products like anti wrinkle creams, skin conditioners, facial masks, make up and lipsticks. It also improves the effectiveness of sun screen products and relieves heat on the skin that is caused due to sunburn.