Leek, Lime And Coconut Soup Is Both Delicious And Healthy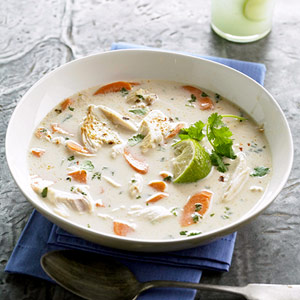 Mmm…leek, lime and coconut soup is just so lovely! The Thai flavors of lime and coconut totally transform this classic leek and potato soup. You will notice that the soup is made with sweet potato, and not regular potato, a vegetable that belongs to the solanacea (nightshade) family and may not be suitable for those with psoriasis. I recommend a trial separation from the solanacea vegetables for at least 4 to six weeks to see if they are causing you any issues.
This recipe does contain one (small) green chili, it is up to you if you want to include it as it does belong to the nightshade family. one small chili should be fine!
This soup can be made and ready in less than hour too. This can be used as a side dish or even as a main course, and if you like Asian flavor I guarantee you will make this a lot more than once. For a variation, try adding some fish sauce and shrimp (prawns).
Ingredients
2 Tbsp olive oil
3 Leeks, thinly sliced
1 Green chili, seeds removed and chopped
2 Sweet potato, peeled and diced
Grated zest and juice of 2 Limes, plus a few extra slices to garnishe
salt and black pepper
2 1/4 cups of vegetable stock
1 cup of coconut milk
coriander leaves to garnish
Method
Heat the oil in a large heavy-based saucepan, then add the leeks, chilli, sweet potatoes, lime zest and seasoning.
Cook for 2 minutes, then add the stock and bring to the boil. Reduce the heat and simmer for 20 – 25 minutes, until the potatoes are tender. Leave to cool slightly.
Blend the soup with a hand mixer or transfer to a food processor and blend to make a chunky, creamy mixture. Return the soup back in to the saucepan.
Stir in the lime juice, then add the coconut milk and heat through, taking care not to let the soup boil.
Serve hot or cold, garnished with slices of lime and coriander.
Enjoy!