Cashew Nut Patties Are A Great High Protein Snack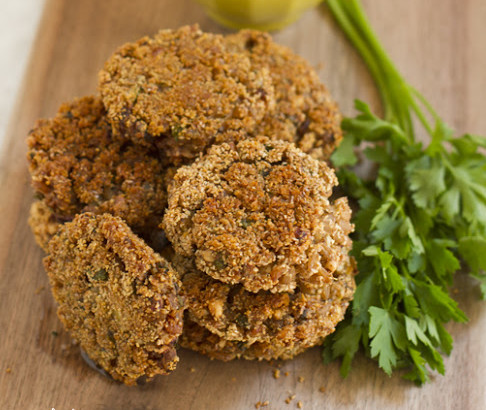 Although cashews may be labeled as raw, they are never completely raw since heat is a necessity during the shelling and cleaning process. Raw cashews may be difficult to find, but roasted cashews are widely available, both salted and unsalted, whole or in pieces. If you are watching your fat intake, choose dry-roasted cashews which have a lower fat content than other forms of cashew. Remember, cashews are high in fat, so just eat a few and not a whole packet!
Cashews are highly perishable and can turn rancid quickly due to their high oil content. Choose vacuum-packed jars or cans over cellophane packaging. Store cashews in a cool, dry place in an airtight container to avoid absorption of other food odors. At room temperature, they will not last long, but if you refrigerate them, they can last up to 6 months. Like walnuts and many nuts, cashews may also be frozen up to 1 year.
Here is a great and tasty recipe, eat one of these a day as a snack. Kids love these cashew patties.
Ingredients
1 cup cashew nuts, roasted
½ cup grated cheese
1 cup carrot, finely grated
2 eggs, beaten
1 Tbspn fresh parsley, chopped
1 tsp fresh mint, chopped
1-2 tsp Marmite
Breadcrumbs for dipping
Oil to fry in, or bake in a moderate oven
Method
Chop cashew nuts, or grind until smooth – to your preferred texture.
Add remaining ingredients, mix well, cover and stand ½ hour or longer, to firm the mixture.
Form into patties, dip in breadcrumbs, heat oil in frying pan, and brown each side of patties.
Serve with salad and/or roast veges.