Pomegranate Oil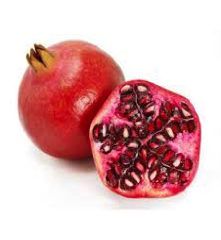 If you try pomegranate oil, (Punica granatum seed extract) try to get one that has been extracted using carbon dioxide extraction methods, also known as "supercritical extraction". Forget the average product, high-quality pomegranate oil is worth trying if you have moderate or severe psoriasis, it is an excellent product, just like emu oil which I explain in-depth in The Psoriasis Program.
Pomegranate oil is a light oil and has a faint aroma not unlike chocolate, you can use it by the drop of have it dilute (about 10 percent) in a blend with a carrier oil like jojoba oil. Pomegranate seed oil and Seabuckthorn extract can be found sometimes in blends, and this combination is fantastic for chronic psoriasis.
Like emu oil, this oil is rated as one of the most powerful of skin healers, research has even discovered that pomegranate oil can fight both skin and breast cancer in laboratory testing. (see Pubmed for studies). Pomegranate oil, just like jojoba oil, has an amazingly long shelf life because of its very high level of antioxidants, it also has anti inflammatory properties, reduces swelling as well as muscular aches and pains.
What Makes Pomegranate Oil So Beneficial With Psoriasis?
What are the main properties that make pomegranate oil so beneficial in psoriasis? The high levels of anti oxidants such as polyphenols discovered in pomegranate oil have been proven to fight free radical damage and promote skin regeneration. It is no wonder that many of the high-end and expensive skincare and cosmetic products include oils like jojoba, pomegranate and emu oil, which I'll be discussing in a minute. Here are five key reasons you will want to try pomegranate oil if you have psoriasis:
1. Antioxidant. The high level of antioxidants like polyphenols that fight free radical damage, promotes regeneration of psoriatic plaques and lesions. 2. Anti-inflammatory. The high levels of specific lipids such as pucinic acid that counter inflammation and reduce swelling. 3. Skin moisturizer. Pomegranate oil nourishes the skin, reduces wrinkles, improves elasticity and slows down skin aging. 4. Skin healer. This oil speeds healing of sunburned skin and helps to reduce the damage caused by ultraviolet damaged skin. 5. Stops skin allergies. Pomegranate oil is one of the best oils to stop your skin reacting to jewelry such as rings, bracelets or earrings.
As I mentioned at the beginning of this article, if you do want to try pomegranate oil for psoriasis, be sure to try a product that has been extracted using CO2 (carbon dioxide). Only this oil will be found to be very light and pleasant to use. Conventionally extracted pomegranate oil is rather pungent and sticky and does not seem to be absorbed so rapidly into the skin.