Broccoli Stir-Fry With Nuts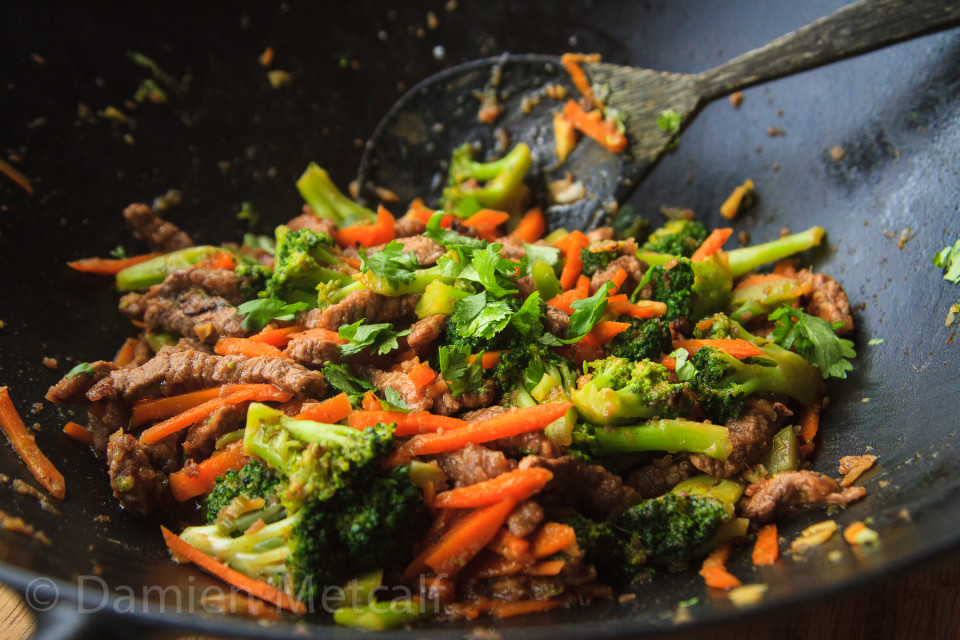 Not sure what to have for dinner? This dish is a knock-out mixture of textures, flavors, colors and healthy nutrients. It is so easy and quick to make as well. I can make a stir-fry each night of the week for months and literally have a different meal each evening. The combinations of vegetables, meats and sauces are endless. Use fresh vegetables, nuts like almonds, cashews or pine nuts and meats like chicken or beef strips. I use tofu at least once if not twice each week. Here is one without meat or tofu, add to suit. (serves 1)
Ingredients
200g sprouting broccoli (a small head)
10g sesame seeds
10g cashew nuts
1 tsp sesame oil
4 radishes, trimmed & nicely sliced diagonally
4 large spring onions, trimmed & sliced diagonally
1 medium sized carrot, cut finely into thin strips
2.5cm (1 in) fresh root ginger, peeled & finely chopped
1 clove garlic, finely chopped
dash of light soy sauce
salt & pepper
Method
Cut the broccoli florets, with their thinner stalks attached, off the woody stems and save some of the smaller leaves. Discard the thick stalks and any particularly large and tough-looking leaves.
Dry-roast the sesame seeds and cashew nuts in a dry frying pan. When they suddenly begin to smell really toasted and colour up, remove the pan from the heat and set aside.
Heat the sesame oil in a well seasoned wok, and add the radishes and spring onions when it is really hot. Stir-fry for 2 minutes, and then add the ginger, chilli and garlic.
Add the carrot and the broccoli and stir-fry everything for a few more minutes.
Add a dash of light soy sauce and continue cooking until the broccoli is just beginning to soften- it should retain some crunch.
Add the toasted cashews and sesame seeds and stir well.
Check the seasoning, and serve with rice.
Great vegetarian dish, who dares to say you need meat!