Wild Rice, Cucumber And Orange Salad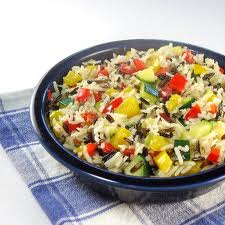 Wild rice is a nutty flavored type of grass seed, it is black in color and is best cooked in tiny amounts or mixed in with brown or white rice. Have you ever tried to have orange in a salad? Orange is a powerful cleanser and cooling cucumber relieves water retention. What a great detox combination. This is a nice fresh tasting salad and is perfect to have in springtime or summer. This is also a good recipe to have if you are coming out of a fast for a few days. There is enough here to serves four people.
Ingredients
225gr wild rice, or use 75% brown and 25% wild rice
850ml water
3 garlic cloves
1 Tbspn balsamic vinegar
2 Tbspns olive oil
Sea salt & black pepper
1 red onion
1 large orange, peeled break into segments which you cut in half
1 medium telegraph cucumber (take the seeds out please) and cut into small chunks.
Generous amounts of parsley or coriander
Method
Put the wild rice and water into a large pan and bring to the boil. Stir, cover and simmer for about 40 minutes or until the rice is al dente (firm to the bite). Uncover the rice for the last few minutes of cooking to allow any excess water to evaporate.
To make the dressing, put the crushed garlic, vinegar, olive oil and seasoning into a screw-top jar and shake vigorously. Add extra vinegar, oil or seasoning as required.
Drain the rice and place into a large bowl. Pour over the dressing and mix in. The mix in the chopped cucumber, orange, red onion and parsley or coriander.
Notes
This recipe contains both capsicum and tomato as ingredients. If you know that you are sensitive to the solanacea family of vegetables, or have discovered that by removing this group of vegetables your psoriasis improves, do not add them to the dish.
You may find your bowel motions and your urine may turn a bit reddish the day after this salad, don't be alarmed, this is perfectly normal after consuming beetroot.