Vegetables And Beef Thai Style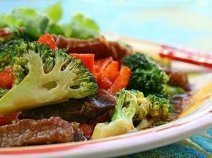 What is there not to love about a good Thai dish, isn't Thai food just great? The flavors and freshness make it a hard to resist quick meal. This meal takes no more than 20 minutes to make. The trick is in the right preparation of the ingredients. Always select the freshest of vegetables and meats for a dish like this. You will really impress your friends with this recipe, and if you make it just as I suggest, they will think it came straight from the Thai restaurant!
Ingredients
2 teaspoons sesame oil
300gr lean beef, sliced thinly
1 medium carrot, cut into thin strips about 25ml long
100 gr small mushrooms, quartered
3 spring onions, cut into 25ml pieces, diagonally
6 green beans, top and tail then cut pieces diagonally about 25ml long
1 medium onion, peeled and sliced then cut diagonally
2 – 6 cloves of garlic, depending on taste. (I would add 6 – 8 cloves, peeled & thinly sliced)
1/4 cup organic soy sauce
1 teaspoon (or two, depending on sauce) of cornflour.
1/2 cup of water
pepper and salt to taste
Method
Marinate the beef first – place beef and finely chopped garlic in a glass bowl. Add 1 – 2 tablespoons of sherry or a fortified wine and the soy sauce. Stir well and leave for an hour or two (or overnight for the absolute best result). Marinating the meat will make it so tender you will wonder why you didn't marinate meats years ago.
Use a steel wok. Always use a wok when you cook a Thai dish, it will taste better I assure you. Start with the onion first, add the sesame oil into the wok and get it hot (until you see smoke), then add the onion. Cook for a few minutes until semi-cooked. Do not overcook!
Secondly, add the marinated beef pieces and cook well.
Then add the remaining vegetables and stiry fry gently for a few minutes.
Add the water (in which you have mixed the cornflour) and leave for a minute or two before you gently turn the meat and vegetable mix through it.
Season with pepper and salt to taste.
Serve with steamed Thai jasmine rice.
Enjoy!