Soba Noodle Soup Is A Delicious Gluten-Free Soup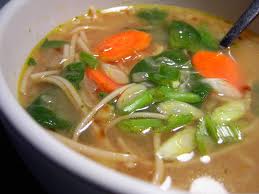 Soba (そば) noodles are noodles made of buckwheat flour, roughly as thick as spaghetti, and prepared in various hot and cold dishes. Going gluten free (GF)? Then you are in luck, because buckwheat is 100 percent gluten free. Just make sure the stock you use is GF.
The great thing about Soba Noodle Soup is that you can keep all the necessary ingredients on hand at all times (garlic, ginger, mushrooms, soba noodles, etc) then add whatever vegetables you have, if you have any. This recipe is also endlessly flexible. Try some tofu or chicken if you have it, mung bean sprouts would be lovely and so would be a sprinkling of fresh coriander leaves, and sesame oil will impart a heavenly flavor as well. Try in addition to stir in some lightly beaten egg. What a meal!
Ingredients
250 g packet soba noodles
2 dried shiitake mushrooms
2 litres vegetable stock
120 g snow peas, cut into thin strips
2 small carrots, cut into thin 5cm strips
2 cloves garlic, finely chopped
6 spring onions cut into 5cm lengths and thinly sliced lengthways
3 cm piece of ginger, cut into julienne strips
1/2 cup (80 ml) soy sauce
1/2 cup (60ml) mirin or sake
1 cup bean sprouts
Method
Cook the noodles according to the packet instructions. Drain.
Soak the mushrooms in 1/2 cup boiling water until soft. Drain, reserving the liquid.
Remove the stalk and slice the mushrooms.
Combine the vegetable stock, mushrooms, reserved liquid, snow peas, carrot, garlic, spring onion and ginger in a large saucepan.
Bring slowly to the boil, then reduce the heat to low and simmer for 5 minutes, or until the vegetables are tender.
Add the soy sauce, Mirin (rice wine) and bean sprouts. Cook for a further 3 minutes
Divide the noodles among four large serving bowls.
Ladle the hot liquid and vegetables over the top and garnish with coriander.