Pumpkin, Sweet Potato, Spinach and Fetta Frittata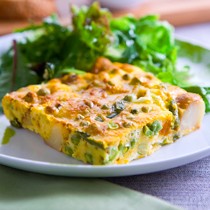 Never under estimate the frittata, it is a very filling and wholesome meal, containing lots of protein and loaded with many essential vitamins and minerals. It is very easy to make and a highly adaptable dish, it can be served with a meat or bean dish and is perfect for the picnic as well.
Ingredients
4 cups of pumpkin coarsely chopped
1-2 cups of sweet potato, coarsely chopped
1 large potato coarsely chopped
125g baby spinach leaves chopped coarsely
200g Fetta cheese, crumbled
1 cup coarsely grated cheddar cheese
10-12 eggs lightly beaten
1 small red onion, sliced thinly
Method
Preheat the oven to very hot. Grease deep 23cm square cake pan. Line base and all sides with baking paper.
Steam or boil the pumpkin, sweet potato, and potato. Strain through colander.
Combine crumbled Fetta cheese, cheddar cheese, eggs, spinach and stir. Add to this the pumpkin & potato and stir to combine.
Transfer the mix to the prepared pan and bake in hot oven for about 25 minutes or until firm.
Stand about 5 minutes before serving.
I loved making this recipe! The colors of the Frittata are so glorious.
It would be perfect as a picnic food. I'm going to be taking this along to the next shared food school function.