Mixed Bean Salad Is Nice For Lunch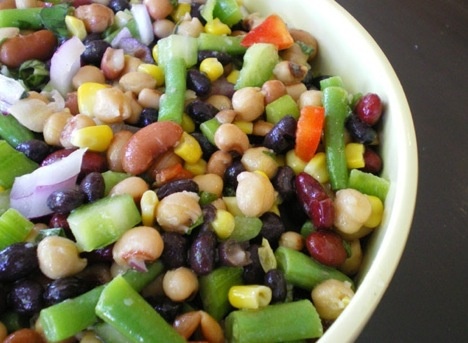 I like salads for lunch, and this is a real nice one. You can vary the ingredients to suit. I like to cook my own beans, rather than use the canned variety. Of course, it all depends on how busy you are, I do keep some tins of red kidney beans and chickpeas (garbanzo beans) in the pantry, and remember, tinned beans are better than no beans.
Ingredients
1 clove of fresh garlic
2 tspns olive oil
2 tspns fresh lemon juice
300 g can four-bean mix, rinsed, or cooked
1 trimmed celery stalk (100g) chopped finely
1/2 cup of steamed chopped green beans
¼ cup (30g) seeded black olives, chopped
¼ cup loosely packed fresh parsely leaves
½ small red onion, sliced thinly
1 cup loosely packed baby rocket leaves
Salt and pepper to suit
Method
Place garlic, oil and juice in jar and shake to mix well.
Place remaining ingredients and dressing in medium bowl; toss gently to combine. A delicious dish.
Variations – too numerous to mention, you can add cooked brown or Arborio rice, chickpeas, wheat free pasta, etc.