Chop Suey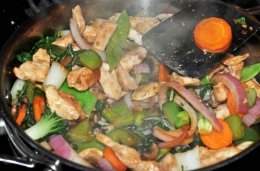 Chop suey literally means "assorted pieces" in Chinese.) This dish is one of my favorite Chinese meals, is a dish consisting of meats often chicken, fish, beef, shrimp (aka: prawns) or pork and eggs, cooked quickly with vegetables such as bean sprouts, cabbage, and celery and bound in a corn starch-thickened sauce. It is typically served with rice but can become a form of chow mein with the addition of stir-fried noodles.This dish is both very tasty and highly nutritious and I like to make it with very fresh vegetables.
Ingredients
2 chicken breasts
1/2 small Chinese cabbage
125 (4 oz) green beans
3 sticks of celery
2 medium or 1 large onion
1 large carrot
3 cloves garlic
250gr (8oz) prawns (shrimp)
2 tablespoons sesame oil
250gr (8oz) pork (optional)
2 teaspoons cornflour
1 chicken stock cube
1 tablespoon soy sauce
1 cup water
small can bamboo shoots
Method
Rinse the Quinoa seeds well (like you would sushi rice) to remove any bitter residue from the husk.
Place in a saucepan with the water and salt, cover and bring to the boil.
Reduce heat and simmer (20mins) until all the liquid is absorbed.
Take away from heat and stir in mirin and vinegar. Cool, add tahini to help the grains stick together.
Proceed as you would with normal sushi making, by placing a nori sheet on a bamboo mat.
Spread the Quinoa over two- thirds of the nori sheet.
Place long strips of vegetables down the centre, roll and squeeze tight.
One roll should yield 6 -8 pieces depending upon how thick you make them.