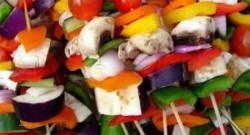 Vegetarian Kebabs taste great. These could be cooked outdoors over a barbeque while the meat eaters sink into their high saturated-fat lamb chops and sausages. And don't barbequed lamb chops taste great! If using bamboo skewers rather than metal ones, soak them in water for several hours before you start. These kebabs are a colourful addition to a meat dish too, by the way. You don't have to be a vegetarian to enjoy them.
Note: the kebabs I made above contain red, green, yellow and orange capsicum (bell peppers). You will need to avoid this family of vegetables as a trial if you have psoriasis, to see if there is a link between the solanacea family of vegetables (potato, tomato, capsicum, eggplant) and your psoriasis flare-ups. You can read all about this in my Psoriasis Program.
Ingredients
1 Tbsp soy sauce
1 tsp sesame oil
1 tsp Manuka honey (New Zealand honey)
3 big cloves  garlic, chopped into 3 slices each
1 small red onion
1 small zucchini
6-9 button mushrooms
 Step 1 – Mix the Marinade
Put the soy sauce, sesame oil, honey and garlic in a bowl and stir thoroughly, then put to one side.
Chop the onion into sections so that you have pieces that can be safely skewered without falling off.
Slice the courgette into rounds.
Mix all these together with the mushroom buttons in the marinade. Leave for 1 hour or so.
Step 2 – Preheat the grill
Thread the vegetables on to the skewers, transferring any remaining marinade into a small pan (if you don't have much left, don't worry- use some plain soy sauce for dipping instead).
Place the kebabs under the grill or on the barbeque and cook, being careful to turn them regularly.
Warm the remaining marinade over a low heat, you can thicken this with a little corn flour in water added.
Remove the kebabs from the grill or barbeque when the vegetables are beginning to brown nicely and soften, and serve with the marinade or soy sauce or sweet chilli sauce on the side.
The kebabs can be served with brown rice and a green salad made from rocket or watercress leaves. Very tasty.