Chickpea Salad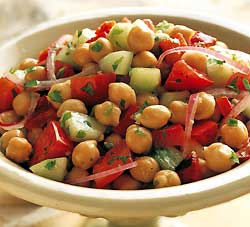 Chickpea salad is one of those typical summer salads you would make to accompany a few other salads and a protein of choice, like chicken, fish or a barbeque. It is best made ahead of time and the flavors left to infuse.
If you are soaking the beans, leave them at least for four hours, and then cook in the same water. Scoop the froth off that accumulates during cooking. Simmer for about 30 -45 minutes, drain then cool. Alternatively, you can use canned chickpeas to save on preparation time, but I believe there are always more health benefits to be obtained from the "real" thing. If you buy chickpeas, be sure to select those which are big, creamy colored and plump. Avoid those small and excessively wrinkled chickpeas. Asian grocery stores often sell good quality chickpeas. Keep a few kilograms in stock, they keep for years and are a perfect food if you ever run out of fresh or canned foods.Because I live in New Zealand (prone to earthquakes), I always keep a good stock of dried seeds, nuts and grains, because you never know what is around the corner these days. When you have a good stock of dried beans and peas along with a vegetable garden, you just about have your own supermarket!First, make a simple dressing with 1/4 cup extra virgin olive oil, simply add:
Ingredients
A dash of balsamic vinegar
A touch of sea salt
A crushed clove of garlic
Shake it all together
Mix together your home – prepared cooked chickpeas, once they have cooled, or a can of chickpeas.
Add some finely sliced red pepper or tomato. (Avoid if you want to avoid the nightshade family though)
Add a good handful of chopped coriander and stir through the dressing.
Garnish with a pinch of paprika powder.
Serve with lettuce leaves, wholegrain bread and couscous.