Chicken, Leek And Corn Pie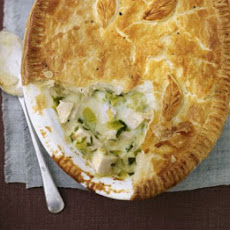 Chicken, leek and corn pie is a very tasty dish. This recipe is special because it's just so easy, and it also looks pretty special so it's a good one to pull out if you're trying to impress. It tastes as good as it sounds. There are dozens of recipes similar to this one, but I have made this one a few times and know it to be very tasty. Try it yourself.
Ingredients
1 large barbecued chicken
50g butter, chopped
1 onion, finely chopped
3 leeks, thickly sliced
1⁄3 cup plain flour
1 cup chicken stock
½ cup cream
310g can creamed corn
¼ cup chopped fresh chives
1 sheet frozen puff pastry, thawed
2 tbs milk
Mashed potato garnished with chopped chives, to serve
Method
Remove meat from chicken. Discard skin and bones. Coarsely chop the meat.
Melt butter in a large saucepan. Add onion and leeks. Cook, stirring occasionally, for about 5 minutes, or until leeks are soft. Add flour. Cook, stirring for 1 minute. Gradually add stock, stirring until combined. Add chicken, cream and corn. Simmer, stirring occasionally, for 5 minutes. Remove. Cover and refrigerate until cool. Stir in chives.
Spoon chicken mixture into a pie dish (7-cup capacity). Gently pull pastry sheet to cover dish. Press edge to seal. Trim. Make a slit in top of pie to allow steam to escape. Brush top with milk. Place on an oven tray.
Cook in a hot oven (200°C) for about 45 minutes, or until pastry is golden brown.
Serve pie with mashed potato garnished with chopped chives.
Tip: Decorate top of chicken pie by using a pastry cutter to cut out shapes from pastry scraps. If pastry is browning unevenly during cooking, cover that browned area with a piece of foil.