Blueberry Bars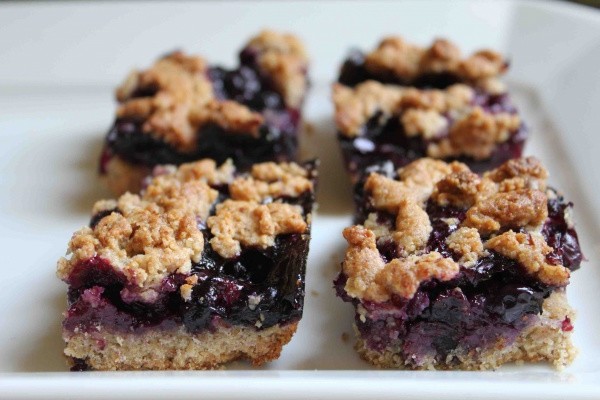 Here is a recipe for blueberry bars that a patient gave me a few years ago, who just happens to have psoriasis and who is a celiac as well! These blueberry bars are made with healthy coconut flour and high protein almond flour, along with nutritious blueberries. Research has revealed that blueberries are powerful antioxidants and true superfoods, they are very beneficial for your health and contain many different compounds.
Not only can blueberries boost the immune system and help to lower your cholesterol levels; the nutrient properties in berries can prevent cancer, heart disease and other conditions like psoriasis, an inflammatory condition.
Dried blueberries can have a tendency to be quite dry, so plump them up before I use by placing them in a bowl and pouring a bit of boiling water over them. This brings out their goodness, making them softer and a lot easier to digest. Let them sit in the hot water for 15 minutes until the water is mostly absorbed, then discard any remaining water
Ingredients
1 cup almond flour
1 tablespoon coconut flour
2 tablespoons flaxseed meal
¼ teaspoon sea salt
½ teaspoon baking soda
2 tablespoons coconut sugar
¼ teaspoon stevia or xylitol
2 free-range eggs
½ cup dried blueberries, soaked in ¼ cup boiling water to plump
½ cup carob buttons or chunks broken into small pieces
Method
1.In a large bowl, combine almond flour, coconut flour, flaxseed meal, salt and baking soda.
2. Blend in coconut flour, stevia and eggs.
3. Mix in blueberries and carob pieces.
4. Spread mixture into an 20 x 20 centimeter (8 x 8 inch) baking dish.
5. Bake at 180 C (350°) for 15 minutes.
6. Cut into squares and enjoy!
Makes 16 – 18 bars