Bircher Muesli Is The King Of Muesli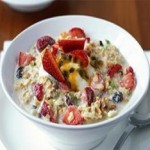 Do you have sudden food cravings? I am sure you do, we all like a nice tasty snack from time to time. Try this one, great for breakfast, or as a snack.
Bircher muesli is named after its creator, Dr. Bircher Benner, who was ousted from the Swiss medical profession in 1900 for his heretical claims that grains, nuts, fruits and vegetables had more nutritional value than did meats. Don't be silly, go and wash your mouth out, doctor! In formulating the muesli, Benner had in mind his many patients from wealthy families who were suffering the effects of a diet too high in protein.
Although it was not originally intended as a breakfast food, it certainly fills that niche deliciously. Here's the recipe. It serves 4 very modest eaters. I could eat the whole lot on a big day.
Ingredients
2/3 cup rolled oats (not instant oats) soaked in 1 cup of water overnight.
the juice of 1½ lemons.
4 green apples (Granny smith are best).
4 tablespoons each of freshly ground almonds and hazelnuts.
2/3 cup yogurt.
From 1 – 3 tablespoons of honey, depending on taste. (try New Zealand's Manuka honey).
fresh seasonal fruits like peaches, apricots, bananas, melons or mango, sliced or chopped, to taste, fresh seasonal berries like raspberries, strawberries or blueberries, to taste.
Method
Place the soaked oats and whatever residual water remains with them in a large bowl along with the lemon juice.
Grate the unpeeled apples, and mix them into the oats and lemon to avoid discolouration.
Add the nuts, yogurt and honey and combine. Carefully fold in the sliced or chopped fruit.
Serve: transfer to serving bowls and decorate with berries.
Notes
If you know you have a candida yeast infection then I'd suggest you do NOT have any honey or the stonefruits mentioned above. Stick with the green apple and berries, but skip the honey.
The muesli will keep for 24 hours in the refrigerator. The apple might discolor but this should not affect the taste. Dipping the apple in lemon juice will prevent browning.
There are countless variations with this recipe, feel free to experiment.
Use top quality ingredients for the best results, for example – make sure the nuts are fresh and not stale
Use an organic natural (unsweetened) yoghurt.
This recipe is awesome using my three favorite berries: raspberries, boysenberries and blueberries. I'm not a big fan of strawberries these days, look at the size of 'em. Most strawberries are commercially raised these days with growth hormones and sprayed aggressively with fungal preparations. Grow your own, or buy blueberries, raspberries and boysenberries.