The Big One That Didn't Get Away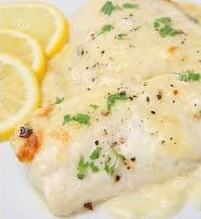 Here's a dish I like to make regularly. It is particularly nice after a day fishing, or maybe I've just bought a big fresh snapper after a failed fishing trip and boasted! Fresh fish is probably the best protein source in my opinion, you just can't beat it for nutritional value. Once you get used to this dish, you'll want to make it regularly. My advice? get fresh fillets, don't make the mistake of using whole fish – the scales and bones can really put people off. Be sure to use the freshest ingredients, especially the sweet potato. Lots of fresh garlic too.
Ingredients
Fresh Fish fillets, I use 700 – 800gr. (use any white fresh fish)
Sweet potato (2 )
Potato (1)
Leeks (1)
Mozzarella cheese, about 1 heaped tablespoon, grated
6 – 8 garlic cloves
1 lemon
Method
Dribble a little extra-virgin olive oil in a roasting pan.
Scrub sweet potato and potato, slice about 10 millimetres (3/8th inch) thick and lay flat or somewhat overlapping in a roasting pan. Dribble (or spray) a little olive oil on top.
Add garlic cloves, peeled and crushed and cut into slices
Lay fish fillets over vegetables. rub or spray olive oil on the fillets.
Top with sliced leeks – it pays to steam them a little first.
Sprinkle the grated mozzarella cheese on top.
Cover (not with foil please)
Bake at 160°C approx. for 30 minutes or until cooked.
Variations
Sprinkle fish with curry powder or favorite fresh herbs.
Lay fresh dill or fennel herb under the fish.
Serve with lemon juice squeezed on top.
Sprinkle with a little grated Parmesan cheese 5 mins. before removing from oven.
Serve with steamed jasmine rice. (I use a blend – 75% jasmine rice & 25% brown rice)
I enjoy this meal regularly– it's nutritious, quick, easy and tasty.
Healthy Tip: Select younger fish, older and larger fish retain more mercury.