Baked Stuffed Avocado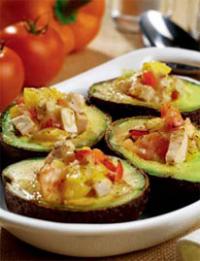 Do you eat avocados? They are a fantastic food to eat, and belong in the top ten healthiest foods, along with blueberries, kiwifruit, apple, etc. Did you know you can eat them baked as well as fresh? Here is a simple yet very tasty recipe. It is one of my favorite avocado recipes, and once you make it I am sure it is a recipe you will want to make over and over. Be sure to select avocados which are ripe yet firm, the flesh will bake better. Choose softer more ripe avocados for spreading on bread or guacamole, firmer ones for recipes such as this. Hass avocados are the best in my opinion, I tend to avoid Reed avocados because the seed is too big at the expense of the flesh.
Fuerte ripens green, and it can be deceptive when to cut them open. Just feel gently with your thumb and forefinger with a gentle squeeze, you will soon tell if any avocado is ripe or not. Enjoy!
Ingredients
2 Large, firm but ripe avocados
2 tablespoons (40ml) olive oil
1 teaspoon (5ml) chopped fresh ginger
1 cup (250 ml) firm tofu, diced to 1.25 cm (1/2 inch) cubes
1 teaspoon (5 ml) Chinese sesame oil
1 tablespoon (20 ml) sweet chilli sauce
1 tablespoon (20 ml) sweet soy sauce
1 match-box size chunk of creamed coconut, chopped (canned is ok, use chunks)
1/2 cup (125ml) cooked green peas
1 tablespoon (20ml) fresh lemon juice
1/4 teaspoon asafoetida powder
1 teaspoon (5ml) sea salt
1 tablespoon (20ml) minced fresh coriander leaves
Method
Carefully run a knife from the stem end downwards and right around the avocados. Twist to separate the two halves. Remove the seeds.
With a spoon, scoop out the avocado flesh leaving a 1.25 cm (1/2 inch border. Chop the avocado flesh into large rough chunks.
Heat the olive oil in a heavy non-stick frying pan over medium heat. Add the asafoetida powder and saute for a few seconds. Add the ginger and saute for 1 minute. Add the tofu and stir-fry until the tofu is browned. Drizzle on the sesame oil, chili sauce, and soy sauce. Fold in the creamed coconut, stirring until it melts.
Add the peas, lemon juice, salt, minced fresh coriander, and stir well. Finally, add the avocado pieces, stir to mix, and remove from the heat. Place the avocado halves carefully on a flame proof gratin dish and add the stuffing. Bake in a preheated oven at 180 degrees C/355 F for 10 minutes and serve immediately.
Serves 4 as an entree.
Kurma dasa – From the book: "Great Vegetarian Dishes – Over 240 recipes from around the world"