Have You Ever Tried Almond Bread?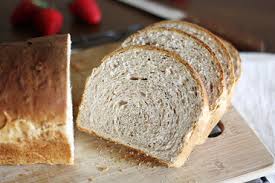 Bread does not have to contain flour made from wheat, have you ever tried a bread made from a nut flour like almond flour? The following recipe is fantastic, and once you have made and tasted it you will be hooked. It smells great when cooking in the oven, and is full of fiber and protein and makes an excellent snack.
Ingredients
2 cups blanched almond flour
2 tablespoons coconut flour
¼ cup flaxseed meal
¼ teaspoon sea salt
½ teaspoon baking soda
5 free-range eggs
1 tablespoon coconut oil
1 tablespoon honey or rice syrup
1 tablespoon organic apple cider vinegar
Method
1. Place almond flour, coconut flour, flax, salt and baking soda in a food processor or blender
2. Mix ingredients together thoroughly
3. Blend in eggs, oil, honey (or rice syrup) and cider vinegar
4. Place the mix to a greased 7.5 x 3.5 loaf pan. I add grease-proof paper to the pan, it peels easily from the loaf once baked.
5. Bake at 350° (180 Celsius) for 30 minutes
6. Take from oven, turn the loaf onto a breadboard and peel off the greaseproof paper, then cool in the pan for 2 hours.